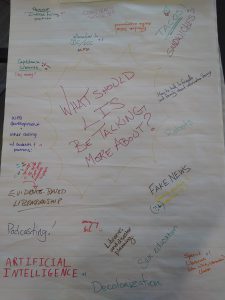 We were thrilled by the turnout at our official launch party today in the FIMS Graduate Resource Library. Our first official episode will be published on Oct 9; in the meanwhile, we invite you to enjoy our three pre-season episodes.
We have so many people to thank for their support in getting us to this point:
Erin Carroll & Paul Buckley-Golder

for helping us in accessing the FIMS recording studios

Charlotte McClellan

for helping us with our many, many website hiccups

Jacquie Burkell

for encouraging us in both a personal and administrative capacity as we piloted this experiment

Lynn Ridley

for designing our beautiful logo

Marni Harrington & the FIMS Graduate Library

for space, promotions, and for blazing the trail for with their launch of the ELIP open-access journal

and, of course, all of you for your support, patience, and contributions
If you would like to support our fledgling success, we invite you to:
Subscribe for updates using the widget in the sidebar ????
Comment on existing episodes to add resources, mention related topics, etc.